Legislators seek to ban the practice, after rural community leadership calls for a more responsible sector.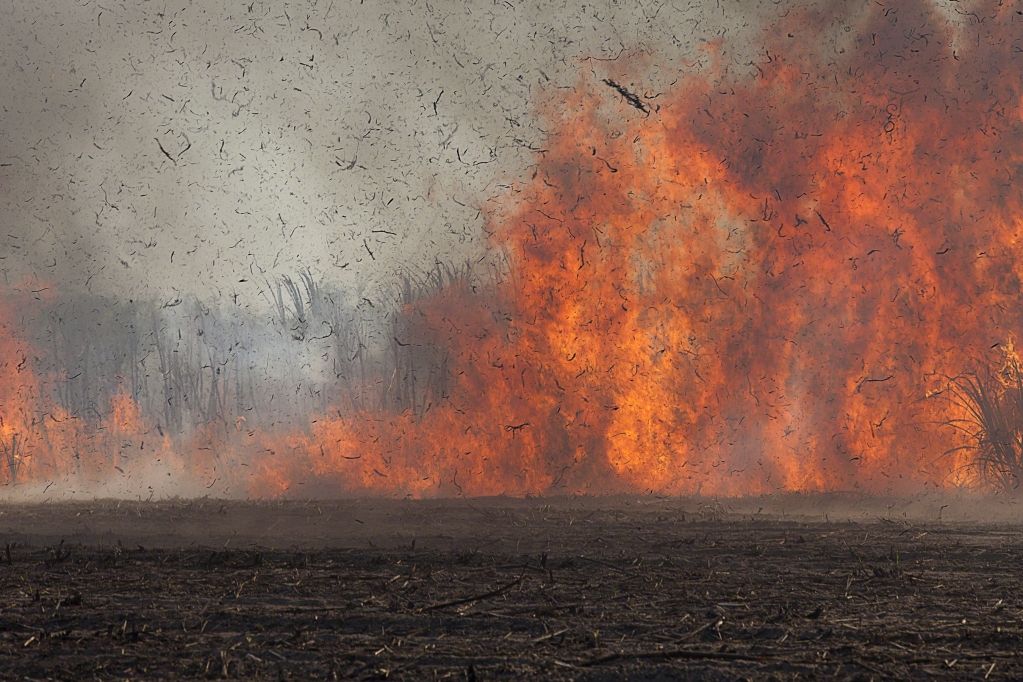 If you've travelled to the Lower Lempa between the months of December and April, you've probably seen it.  Large, billowing clouds of thick black smoke rise across the horizon, sometimes blotting out the sun.  Long, slim pieces of black soot reminiscent of charred wood shavings fall softly like snow in the late afternoon or early evening.  Somehow, these black flakes find their way into your folded laundry, or onto your dinner plate, or even into your water glass.  These are not isolated or even occasional instances.  During the height of sugar cane harvest in the Lower Lempa, this happens every day.
Sugar cane burning is a fact of daily life during the winter and early spring months in coastal El Salvador, and has been for over 30 years.  Just prior to harvest, growers will set fire to large sugar cane tracts, burning off excessive amounts of green and leafy material from the plant.   This improves the harvesting and milling process and makes it easier to cut the cane by hand, which is loaded onto flatbed trucks destined for one of the six milling facilities in El Salvador.  In all, an estimated 25% of the sugar cane crop's total biomass goes up in smoke during harvest, and nearly 3% of El Salvador's entire geographic landmass is set ablaze during four months out of the year.
Last month, authorities finally took notice.  Citing the environmental, health and social costs of this practice, Salvadoran legislators passed a resolution granting the government authority to regulate sugar cane burning throughout El Salvador.  This motion is in no small part due to the efforts of grassroots community leadership in the Lower Lempa, who have been voicing strong concerns about the sugar cane sector and its practices since 2009.  It overwhelming passed the National Assembly 74-9.
These rural communities unlucky enough to live adjacent to sugar cane fields know all too well the costs of this industry on Salvadoran rural society, and are calling for more responsibility in how the sugar cane sector operates.  Our partners have also teamed up with six coastal governments to draft local ordinances to regulate burning, indiscriminate pesticide application and that unfettered expansion of sugar cane fields which is a leading cause of deforestation in the region.
One way the sector can transition away from burning is the adoption of Green Cane Harvesting (GCH) practices.  National authorities are already working with the industry to decrease burning and establish a quota at the mill to process "green" or unburned product.  This works particularly well in small areas where mechanized cutting is already utilized, and linkages can be made with sugar mills that can handle the extra vegetative mass left on green stalks.  To date, the government identifies roughly 1,750 hectares of sugar cane where GCH practices are already being voluntarily employed, particularly practices that avoid pre-harvest burning.  This is roughly 3% of El Salvador's total sugar cane footprint of over 63,000 hectares.
One of the stated goals shared by the Ministries of the Environment and Agriculture is to ensure that a total of 8,750 hectares of sugar cane be harvested through green practices by the end of 2013.  Given that those willing to stop burning sugar cane voluntarily have already stood up and been counted, this goal could present a significant challenge.
Getting down to brass tacks, harvesting sugar cane without burning is not necessarily more economical, nor particularly more productive.  Some studies show that burning may decrease the amount of "brix", or sugar content in the milled sugar, but others contest this claim.  Even if unburned 'green' cane yielded more sugar at the mill, this benefit would be offset by costs of disposing the large amount of leftover biomass.
Harvesting green cane in El Salvador would represent a sea change in how the industry has operated in places like the Lower Lempa or the past 30 years.  It is unlikely to make this change willingly, and certainly not overnight.  Sugar cane generates over 2% of El Salvador's Gross Domestic Product and a whopping 20% of its agricultural output, and the industry is probably watching its bottom line.  If the Salvadoran government expects to contribute to significant reductions in sugar cane burning, and meet its goals, it is going to have to pair incentives to adopt more environmentally friendly practices like GCH with stricter enforcement, such as permits or fines.
All of this will require an alliance between national agencies, local governments, and civil society to completely address the problem—much like the alliance that EcoViva and its partners have contributed to over the last several years.  Local governments will need the legal tools to fine infractions, and the wherewithal to interpret these rules.  Communities and families will need to know who to contact if they spot smoke on the horizon.  Rural agriculture programs can help growers try new, innovative production and harvesting techniques that are cost effective and environmentally friendly.  And the growers themselves will need to be involved so that they understand and can comply with new restrictions.
El Salvador is taking the right steps to someday clear the air along El Salvador's coastline.  But our work to support this process is far from over.  EcoViva is supporting the good work of actors participating in the "Movement for the Defense of Life and Natural Resources" (Movimiento).  These organizations include:
Provincial Governments (Jiquilisco, Jucaran, San Dionisio, Tecoluca, Usulutan, Zacatecoluca)
Local Organizations (Asociación Mangle, CORDES, La Coordinadora, MOPOA)
Regional and National Organizations (University of El Salvador, Bay of Jiquilisco Watershed Group)